Last Friday was the first time we finally went out to the mall as a family.  Since baby Matti was born Little Zoie and her dad are the ones who always have fun going out.  I am exclusively breastfeeding and I'm currently not using pump to store my breast milk, so going places seems impossible to do with the baby.
But that day was different, we went to SM Muntinlupa for a little family time and picking up some grocery stuff.  I said different because as far as I know, SM Muntinlupa, is the only one that has breastfeeding station near our area as far as I know.  So, I chose to buy our grocery there and besides, I need to stop by at Little Zoie's school which is just across the shopping center.
As we are going around the mall, we accidentally bumped to hubby's sister who is, along with her friend, planning to treat her friend's niece with food and fun.  Good thing the little girl was Zoie's age, they got along just fine.
While me and hubby, with baby Matti, are picking up groceries, our Little Zoie, with her aunt, is having fun at SM Muntinlupa's new playground with cute Meg, the niece.
Here's the picture…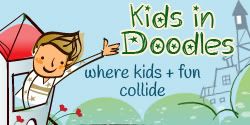 Kids in Doodles #59
Ruby Tuesday 2 #7