Happy Grandparents Day!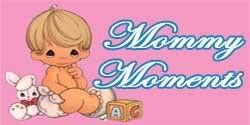 This week's Mommy Moments theme is about Grandparents.  Now I'm sharing pictures of my grandparents and even my great grandparents.  I so love my grandparents, I never fail not to see them every week, at least once or twice a week.  I also enjoy staying with them, why?  Because I'm always getting what I what! Haha! Spoiled brat…
I am spoiled but definitely not a brat!
Anyway, here are some of my grandparents and great grandparents' pictures:
Mommy's side of the family.  Grandparents: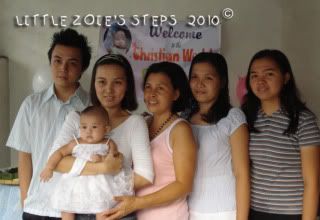 This was taken from my dedication day last April 2008.  Beside mommy (who is holding me), is my Lola Mama (grandmother) and the rest is my mom's siblings.  My most recent picture with Lola Mama is taken from their camera's, no copies of those yet.  Lolo Papa is camera shy.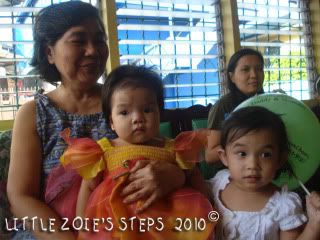 This is my other grandmother, Lola Julie, my Lolo Papa's oldest sibling and Kinah's grandmother too.  Her husband, Lolo Boy is also camera shy.
Daddy's side of the family.  Grandparents:
This is Lola Mommy, this was our recent picture, my first time to visit the zoo.  I actually grabbed this picture from my mom's blog.  By the way, Lolo Daddy is not around so he's not with us in the zoo, and as mommy and I browse our photo cds of his picture with me… no, picture!  Seriously, why does grandfathers are soo soo camera shy?
Mommy's side of the family.  Great Grandparents: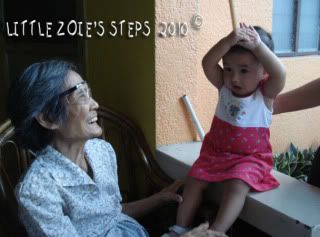 This is Lola Lola, Lola Papa's mom, no recent picture again… I've got to remind mom to get copies of our pictures from their cameras.
 Anyway, I was busy interpreting the "Twinkle, Twinkle Little Star" to my Lola Lola here, look she's so amused!
Daddy's side of the family.  Great Grandparents:
And lastly, another Lola Lola.  Picture taken last December 31, 2009, nope actually, January 1, 2010, past midnight.  We were celebrating the New Year with Lolo Daddy's side of the family.
That about it… I got a very big family!  I'm so happy at least I even got to see, play and show my antics to great grandparents.  I hope my upcoming cousins will get to meet them too.
Happy Mommy Moments!