december is one of the busiest month, i say… whew!
after our noche buena feast on the 24th, we also need to be present on the cristoria's reunion every 25th of december…
the reunion was held at one of my lola's residence, lola lalaine, at new manila, quezon city.  we arrived there together with tita yca at around past noon… it's supposed to be a lunch party.
before the fun starts, we have to eat lunch first!
there's a lot served, but i don't know what to eat first… hmmm… from all of the food, i liked the molo best! yum!
after eating cristoria kid's had a bonding time our own.
-l-r: ate jaz, ate ish, me and tita yca-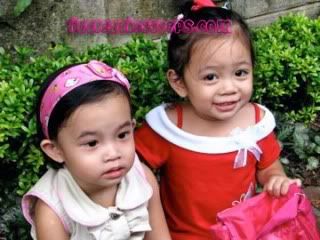 and here's a shot my ninang pam took when i was reaching for a chocolate! caught in the act! ;p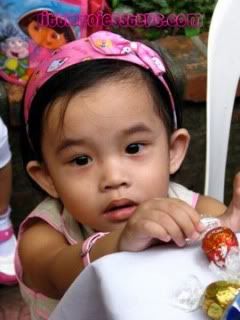 of course, every party has a game to play and this one's a very interactive game for sure!
but i don't know the name of the game, and maybe i'll let my daddy tell you the mechanics of the game (mom's new at this one too!).
everybody got tired of playing so the 'oldies' decided that its time to open the gifts… yay!
dad, took this shot… and i'm not looking! i'm busy looking with everyone, they're busy exchanging gifts!  i only gave gifts to little kids like me, 'cause its mommy and daddy's job to give gifts to the grandpas and grandmas…
-daddy's in the picture with mommy and me!-
see down here, grandma lalaine gave me this dress and insist me to wear this.
good thing i'm in the mood to change my dress… but i'm still wearing my sneakers with the dress!
hey, that's one of the gifts mommy and daddy gave me last christmas… it's a doctor set.  i think they wanted me to be a doctor someday…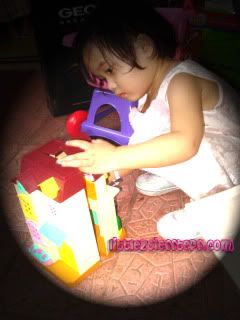 and this is a doll house given to me by my ninang ysa, it also comes with little furnitures and little people, and it also has a doorbell that plays music and says 'hello'!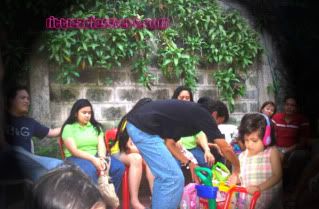 gift-giving is finished! time for a family picture…
-the younger cristoria clan-
see you soon, cousins!