Well, it should have been 5 stars but Monday is just an introduction day for Little Zoie and the rest of the class.
The start of the real learning was last Tuesday, and she got her first 'Happy Star' with a little 'Happy Eraser' as well.  She also got written commendations every day on her diary notebook which I read when she got home.  I understand that she's doing very well in school.
Let's count her 'Happy Stars':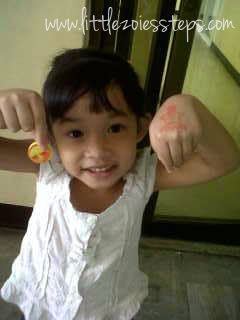 Tuesday star
**Her Friday star got erased before we can take a picture of it…**
For the past four days of her first week of school, she's been very high spirited and, let's say, hyper whenever she's showing off her 'Happy Stars', well it's great that she's enjoying school so much.
Her small school is right in front of SM – Muntinlupa, and whenever she gets a 'Happy Star' she gets a reward. ^_^ Her requested reward is always Zagu Chocolate flavor.  And since we don't want to spoil her so much, and it's getting quite expensive if we do it every day, we talked that she needs to collect 5 stars every week starting next week.  And she agreed! ^_^
Now, we're going to collect 5 stars in a row. 😉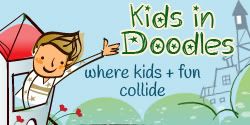 Kids in Doodles # 42