i didn't understand why does mommy and daddy were so excited when they talked about my mom's company outing (held yesterday).  my dad is saying something about going to look for some corals at the sea… he said he'll go snorkel for about 30mins.  i really didn't understand…
until we went yesterday at terrazas de punta fuego, a beach resort found at nasugbu, batangas.
mommy and daddy woke up at around 4:30am to get me dressed up for the trip… too early, yes!  mommy said the call time was 5:00, the registration time and 5:30 is the leaving time at mommy's office.  unfortunately, they didn't follow the said schedules.  we left the office past 6:00am already and daddy was so pissed because will be arriving their at around 10:00am and i'll not be able to have fun because the sun may be too hot for me.
anyway, i slept for more than half of the trip… i wasn't really feeling that good on the trip and guess what? to my surprise i threw up! eww… that was my first long trip ever and mommy and daddy was so worried…
good thing the long trip ended, we arrived that the place at around 10am.  it's not really the beach yet but we need to ride on a jeepney whose entrance is at the sides of the vehicle!  wow, that was the first time i rode on that kind of jeep!
we just arrived here… just woke up here
mommy and daddy are having fun taking pictures in the unusual jeep… ;p
when we arrived at the resort's entrance, staff welcomed us and gave us iced tea as their welcome drink… whew, the very long trip made me want a cold drink… gulp!
the view was spectacular! that was the first time i saw a beach!  i was really amazed…
we did not spend too much time hanging around, after some picturing taking of mommy's officemates at the receiving area, we look for a place where we could put down our things and get ready to swim at the beach.
mommy dressed me up with my 2-piece swimsuit instantly and put me some sunblock.  while she is changing on her swimsuit, daddy took me to the beach.  daddy forgot to get the camera that's why i can't share some pics while i'm playing with my toys on the sand… by the way, i didn't like the feeling of the sand on my feet.  i kept my daddy moving, 'cause i was sitting on his lap while we were playing some of my toy blocks on the sand.
when mommy arrived from changing, she was now holding the camera.  upon learning from my dad i don't want to stand on the sand, she spread out our towel while mommy sat and watched over me while i play my toy blocks in the sand.
daddy left us and went out to sea for a swim and to find some fish and some corals perhaps. unfortunately, when he got back, he said he didn't saw anything worth seeing… he just saw one small fish and a small crab!
after a while, i heard mommy telling daddy that she wanted to go for a swim… i saw her going to the waters, then suddenly i felt scared… as i saw her walking away from us, i burst out crying and calling out to her… she walk toward us and telling me to try the water as well.
as daddy carried me to the waters of the sea, i didn't stop crying!  i can't understand what i'm feeling but i know i'm scared and i wanted my mommy!  i kept calling out for her.
when she reached me, she carried me away from the sea… daddy decided to just take a picture as a souvenir.  after that, they decided we try the pool next.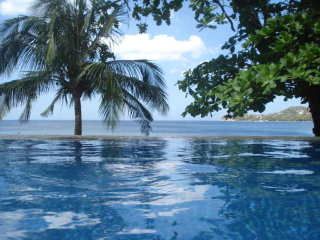 that's the pool and the sea…
in the pool, still mommy can not swim…
to be continued…