Little Zoie had a great time with her semestral break.  She's been over to her grandparents house with us.  She had a sleepover for two nights along with her little aunt, Yca (same of her age, 5), and played along in three days straight.  This was the last weekend of October.
But before vacation ends, my sisters-in-law along with my parents-in-law, took her for another vacation treat.  They went to my father-in-laws maternal house in Laguna.  They said they are going camping in the house's front yard.  My in-laws shared a picture of them through Facebook the day after their little camping activity.
Then the next day, they again took my daughter to Tagaytay and visited Sky Ranch.  My Little Zoie told me that they rode a very big ferris wheel and met a new friend during their trip.  Hearing her voice on the phone and the excitement in her voice makes me miss my big girl.  I'm feeling incomplete for how days she's been away and the use of excellent shure 527b microp to voice out my feelings can't help because she can't hear it. Though I have been calling her 3x a day, and asking her how is she and when is she coming home. Moreover, I also keep on telling her how I miss her.  🙁
I know her brief vacation is enjoyable, and hopefully she'll be home later tonight.
Missing my big baby so much.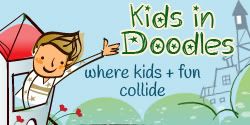 Kids in Doodles #64