What do you see in classrooms?
Yeah, you're right. Classroom furniture are consists of little tables and chairs for pre-schoolers like my Little Zoie. They have a couple of bookshelves, cabbies and another storage cabinets for the little ones school stuff, for activities that is.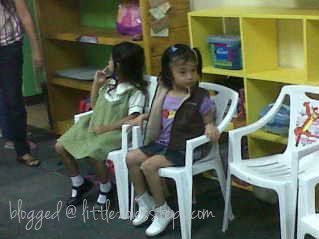 There are a couple of bulletin boards as well.  They usually hang post the little kids' art projects or post any announcements in these boards.
Their school/ learning center has a small space, so there's not much school/classroom furniture around.  Even so, the classroom is properly air conditioned and teachers and teacher aids' are very keen on the kids welfare.  That's good enough for me.