This is the first time that mommy made me a little quiz for the preparation of our class' first quiz tomorrow.
I asked Mommy what is a 'quiz' because it was the first time I heard that word.  She said it is a test.  Our teacher would like to know how much we learn so far.  Because of this mommy made me a little quiz of her own.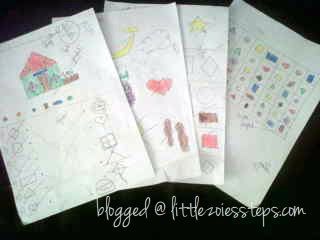 It was supposed to be a 2-page test but I had fun answering them so I asked mommy to give me some more!  I got everything right!
Hopefully, I'll be getting all the answers right tomorrow.  ^_^