It's beginning to be a Family Picnic day for us, mom's side of the family, every Sunday.  And I'm always looking forward to this day since I got to do a lot of active stuff with my mom, tita, ninong and lolo.
This seems to be a very late post because I'm sharing our Sunday Picnic Time three weeks ago.  Last week, was the first time daddy got to join us because he asked a VL from work.  I made him promise to join us that Sunday.  Unfortunately, with all the fun and enjoyment we are having, mommy forgot to put out the camera and took some photos of us.
Well, I'm not blaming mommy, we are having fun.  We are also joined by mom and dad's friend, Tita Tin, last week.
Without further ado, I'll be sharing some photos of last three weeks ago Sunday Picnic Time.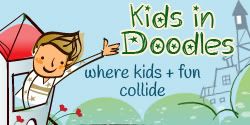 Kids in Doodles #30