We really have plenty of late posts in all of mommy's blogs, including this one.  But we are still posting anyway.
Last weekend, Nov. 19, daddy was on his Vacation Leave from work when he and his neighborhood friend decided to go to Tagaytay on the weekend.  Mommy said the original plan was, daddy and the 'Palavoiz' (the name of daddy's neighborhood barkada) will spend the Saturday morning at Mushroom Burger, Tagaytay.  The night before the trip only two of them confirmed on going along, daddy and Tito Paolo.
So instead of not going through with their plans, both decided to bring us (mommy and me) and Tito Paolo's girlfriend, Tita Mic.
We set off to Tagaytay at around 8:30 am, kinda late but it's ok there was no traffic when we went up.  As soon as we get there, I saw a playground inside the Mushroom Burger compound.  I asked mommy to let me play, but she told me I have to eat breakfast first.  Late for breakfast, right?  Don't worry, mommy packed food (and water) for me to eat on our trip.
Note:  mommy will post the food on her food blog.
So, after a hearty meal, mommy and daddy finally gave me a 'go signal' to play in the playground.  Me and mommy left daddy, Tito Paolo and Tita Mic inside because they are still eating (and talking). Mommy didn't have a chance to take pictures of me playing, not until daddy went out in the playground. That means mommy's the photographer and daddy's my play guide.
In the playground, there are slides, swings, and see-saw, and I rode all of them. They also have wishing well and some umbrella tables (with chairs of course).  Here are my playtime pictures: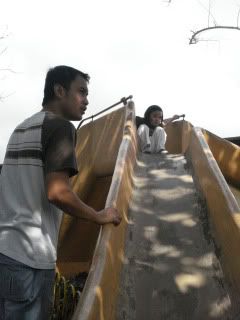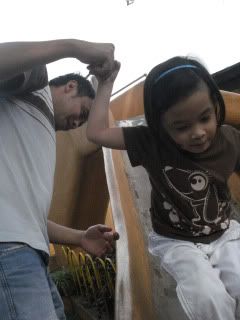 My first try on the slide.
That's Tito Paolo and Tita Mic playing.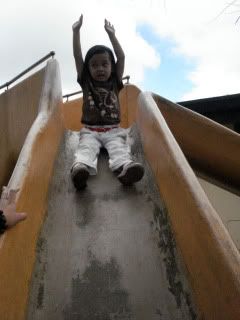 Second try on the slide. 'Look, mommy, daddy, no hands!'
At the wishing well:
Mommy: That's a wishing well, Zoie. You get a coin and wish before throwing it in the well.
Me: Ok.
Mommy: Ask daddy for a coin.
Me (to Daddy): Dad, can I have a coin?  I want to wish.
Daddy gave me a coin, a took the camera on mommy's hand…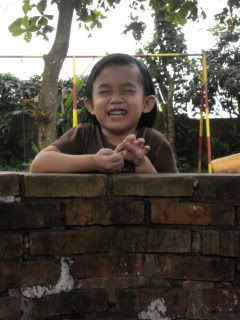 Me: 'I wish for a bike!'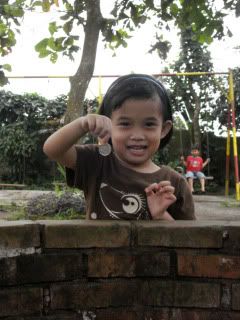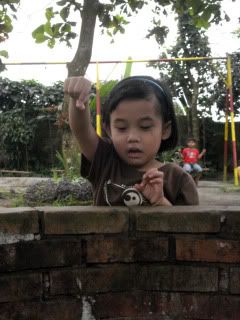 Me:  'Yey!  I'm going to get a bike!'
That day the weather was not too sunny nor dark, it was a fine day to play outside. But when it drizzled rain for a bit. Daddy and mommy decided to go home. If it rains, I can't play anymore, that's why I agreed to go home. They promised that we will come back next time.
Can't wait for that next time, Mom and Dad! You promised!

We will also share this for next week's: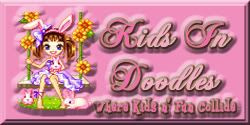 Kids in Doodles #16