Last week as I busy in front of the computer, busy looking for some diet pills that work, I noticed my Little Zoie busy with her colors and her coloring book (both are presents last Christmas).
I took a few minutes time-out from what I'm doing and decided to make this a photo opp, I made her wear her cute blue lighting-up headband.  Here's what I've got: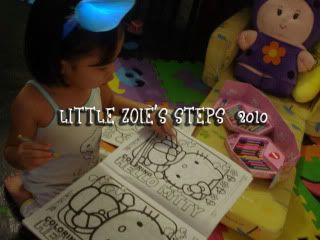 A cutie, right?
As I was editing the photo, I noticed the Jelly Bandz on the floor at her back.  Do you see it?
I know I was bothering her little activity, so I just took some more photos and let her continue coloring.