Every kids loves toys, even the kids at heart…
Yes, we are buying them toys but, are we buying them what they really need?  It's not bad investing toys for your kiddos (ages 30 to 36 months) especially if it will help in the developmental growth of your kids (as they play). I read from BabyCenter.com some toys that can help in enhance your kids' skills in different areas of development as they grow.
Puzzles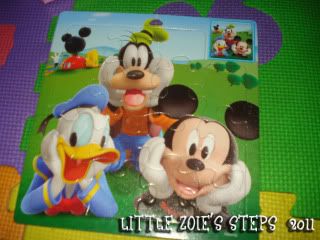 They help in your kid's development in the areas of problem-solving and hand-eye coordination.  The basic jigsaw puzzle with large puzzle pieces and simple recognizable pictures, will help hone this skills.
And my Little Zoie is trying her skills in completing her Mickey Mouse and Friends puzzle.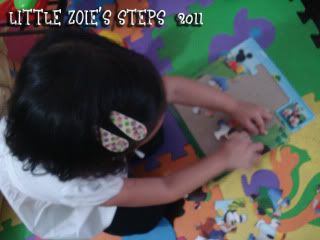 Board or Memory Games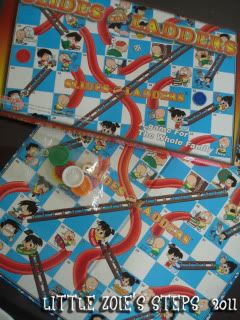 This kind of toys is not only a learning tools but a fun toys.  Examples of board games is Snakes and Ladders, for card games is Memory game.
I bought this Snakes & Ladders because it shows good characteristics/ traits and bad ones too.  All of us knows how to play it, right?  When you stop at a number with a good characteristic/ traits, you'll climb a ladder.  The yellow circle shows that the little girl is taking a bath always, at the top of the ladder she's rewarded with the 'Most Clean' award.  Then, when you stop at a number with a bad trait is showing, you'll slide down as a penalty (for not practicing the good traits).  The red circle shows that the little boy is not reading his books/ studying his lessons, so the result he was given a failing grade.
Kids-size dishes, pots and pans
Every little girls have this toys, it gives their imagination an exercise.  They'll be exploring their skills how to be their mom in the kitchen.  You'll be surprised if they make they own recipe and serve for you to playfully eat!
 My little Zoie loves this toys.
Constructions Sets
Toddlers loves to stack blocks, especially Legos, but for my little kid she loves stacking up colorful blocks with her dad.  Her blocks has alphabets, numbers and images, that's a gift from her grandmother.
Don't mind the messy house please…
Anyway, this is also good to enhance the skill of hand-eye coordination and imagination too, you can build/ stack it up anything you want.  My little girl loves to make towers and pyramids with these, also she's learning to recognize alphabets, number and images because of these blocks.
Art Supplies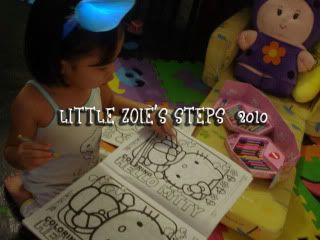 This is good to enhance your kids artistic and creative side.  At this age, this will definitely like crayons, water colors, and other art supplies, just make sure it is washable and non-toxic.
Outdoor Equipments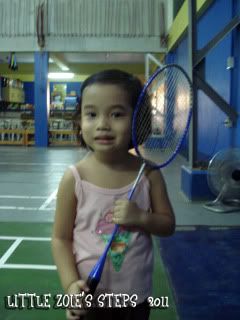 It is good to introduce to your kids some easy sports they'll turn out to like.  They'll develop physical skills as they expose themselves in outdoor games and sports.  You'll never know your kid might be one of those gold medalists in sports as they grow.
Books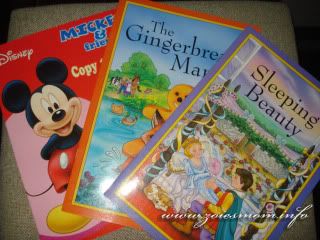 This is my little Zoie's favorite of all, books!  We are practicing their language skills and broadening their vocabularies at this age, and it is good to expose them with age-appropriate books. They would love to hear narrative books, it'll be give a boost to their imaginations and get to understand more complicated words and stories.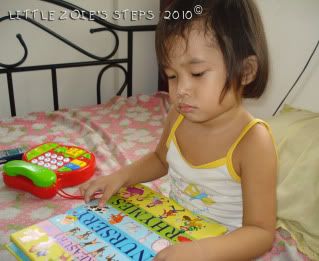 I know it'll be costly to buy them toys and everything, but there are also affordable ones… you just have to make a good investment with these right toys for the development of skills and abilities of your little ones.
source:  babycenter.com