We had a great breakfast at Jollibee last Saturday, and what's the next best thing in eating at Jollibee???
I got to have my new Jolly friend toy… HETTY!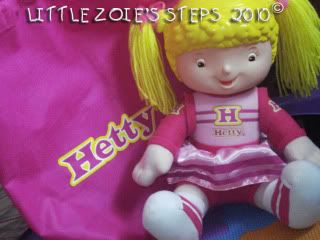 Mommy has finally agreed to buy it the second I asked for it… and I am so happy! I choose HETTY over JOLLIBEE because I like Hetty a lot, even the mascot.
I remember the first time I saw Jollibee move was when I held my first birthday at Jollibee… I cried the whole time Jollibee was around! He was giving his birthday wishes to me but he's on the other corner of the room… just to make me stop crying. And the story about Hetty… the first time I saw her (that was Naomi's birthday) I did not cry!  Maybe she looks more of a person to me, than Jollibee… lols!
Thanks for my new toy, mommy, daddy!  I love you!  I promise I'll take good care of Hetty! ♥