last friday, mommy decided to have a little orientation for me on arts…
she prepared some scratch papers, my color pencils and crayons, a scissors (mommy wouldn't let me use this), and a pencil.
first, she was folding some (scratch) papers… i was so eager looking at what she's doing actually, wondering what was it… and when she's finished, she showed me a paper boat!
that was great!  a boat made of paper!  being excited and everything i asked to make some more… she made 3 boats. she asked me to color the boats to make it more lively, and i did… of course, she also helped me in coloring them all…  i still can not color them properly, you know.
after the boat, she folded another paper and drew some shapes in it.  after she's finished with the drawings she cut the paper… following the lines she drew on it.  and viola, there came four little girls, holding each others hands!  i was so amazed with what mommy has done!
this was great!
but this wasn't finished yet, again, mommy asked me to color the four girls… after a few coloring, she wrote something one every girl… she said she wrote my name, tita yca's name, ate ish' name and our newborn cousin, gwen!
ooppsss… still not finished yet… mommy went to the room and was looking for something, when she came back, she was holding a small box.  i was looking at what she was about to do, when she opened the box and got out a needle and a white thread (as she told me).  she tied a knot on the end of the thread, then she started inserting the needle in one of my paper boats and tied a knot again… inserted the needle, tied a knot… until the three paper boats were connected with each other.
would you believe she made a 'choo-choo' boat for me??? haha… mommy called it a 'choo-choo' boat because it is made of boat and not a train… and that's according to her…
funny, right?  but i love it!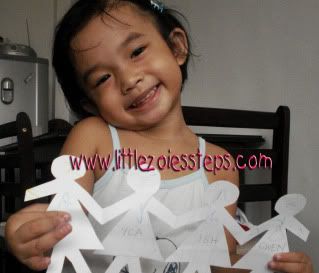 this was one fun, colorful arts day with mommy!
thanks, mom!  i love you!