so here's the next part of my lenten 'getaway'
this was an overnight swimming in a private pool in miramonte village, pansol, laguna.  we went there last friday afternoon (april 2) around 2pm, and reached laguna at around 4pm.  this was just a sudden outing… unplanned, i should say.  the oldies just planned the outing on the day of the 'pabasa', so this was not really on mommy's and daddy's to do list.
we went to laguna, without reserved venue, we just scout around and look for available and cheap private pool (but of course, a nice and suitable place for the family, especially the us… the kiddos).  luckily, we found one!  it has 2 pools, one for adults and one for kids.  a big dining hall, a kitchen (with refrigerator and a gas stove… with gas), and three bedrooms fully air-conditioned.  there are also recreation facilities besides the pool, there's a billiard table and a videoke machine.  these are just P4,500 for an overnight stay, not bad right?
check out some pics while you're here, mommy got take a lot of shots that time… enjoy!
swimming time!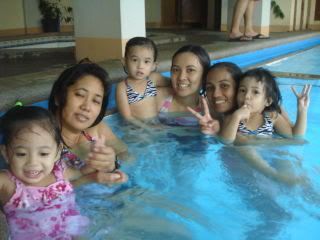 mommy: "what are you holding, zoie?"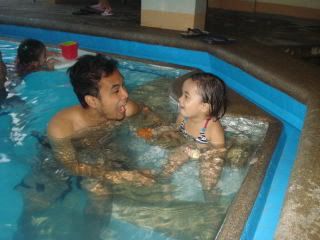 hmmm…
zoie: "its a banana, mommy!"
swimming lesson from daddy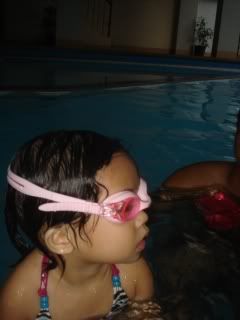 i stayed in the pool for almost 4 hours, and i was having a blast!
after the pool, mommy changed me into playing clothes… we are still waiting for dinner to be served, so the best way to not get bored is…
playing time!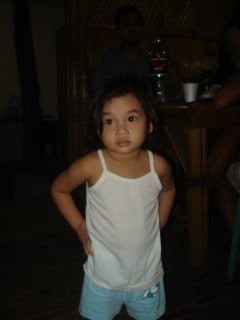 mom, is that daddy in the back?
after a hearty dinner, we went up to the second floor of the building to play again… the oldies get to play with the billiard's table and we get to play with the spacious area.  we just run and play, and chase each other while mommy's keeping watch and taking pictures of us! (ate ish, tita yca and me!)
they have a little stage here… i guess this area is for program purposes, that's why its very spacious.  you can see tables and chairs and the billiards table.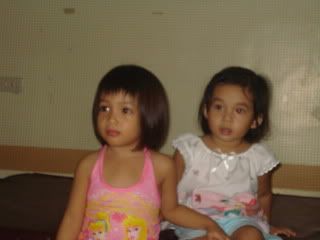 well, that's about it… this is how we celebrated the lenten season.  this was my second swimming outing for the summer of 2010 and hopefully i'll have a third one!