our computer is down for more than two weeks now, and we are just using my daddy's old computer.
and when i say old… its really way old! haha! kidding aside, even though this is older than me, this was my mom's first computer when she started blogging in 2008.  then, when my mom got her first earnings, they (dad and mom) decided to buy a new CPU 'coz this computer started to get sick every now and then.
of course, mommy's first earnings is not that big to buy us a first-hand computer (just the CPU), daddy searched online for a good second-hand computer.  he searched for a computer with a really good specs, and would definitely fit in the budget.   and he really bought a good one, mom was so happy.
and now, this computer i'm talking about is not working anymore… daddy is still figuring out why it won't start.  when we plug it, the power is there, but it won't start the whole computer… hmmm…
maybe i can help… i'm a little 'techy', you know…
hmmm.. maybe i can see something at the other side…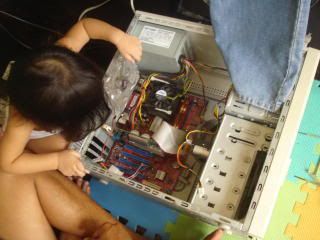 daddy, what's this?… hmmm.. i guess, that's not it…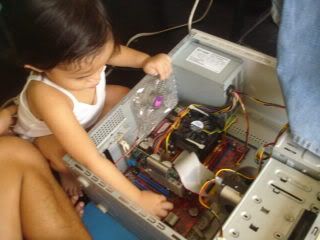 wait, another look here… (whew, getting a little sweaty here, mom…)
mom… dad… don't get surprise, you know what my recommendation is? buy a new one… and i mean, a NEW one! ;p