i just want to share with you some of my memorable family moments last december 2009.
first was… mommy and daddy let me come to them when they were looking for a dining set (table and chairs) to buy.  i thought they wouldn't let me come, i thought they were just going to drop me off to my lola mommy (daddy's mom)… but i thought wrong… (yehey!)  it was a tiring activity but i had fun looking and playing on those different furniture i see.  i keep on calling to daddy whenever i can't find him (but mommy's with me).  i also saw a bunch of balloons hanging on a store posts and i can't help myself not to shout "loon" (balloon!) whenever i see them… 🙂
this was december 12, saturday morning.  i remembered it 'cause i saw mommy wrote the date under the dining table, after it was delivered to our new home… 😉
that was my morning activity… then that afternoon was my tita yca's celebration of her 2nd birthday.
it was more like of an adult party rather than children party, because the kids attended the party was just 3! haha… kasi naman we're the only kids in the clan, kuya lance is in canada pa!
so here are some of the captured moments daddy and mommy took…
i think i want to be a doctor someday…. hmm… what do you think, mom?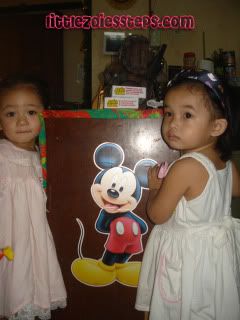 that's tita yca… and we're still waiting for cousin ish to arrive.  by the way, cousin ish' name is venice, its just her 'pet name'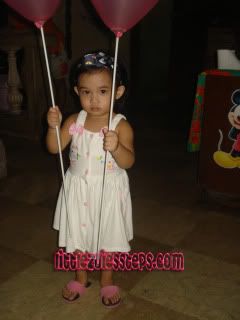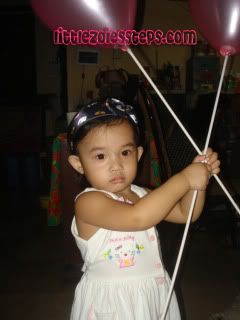 i'm still trying to figure out how to play with this balloon… hmm…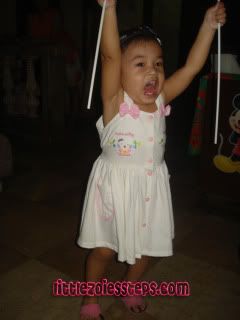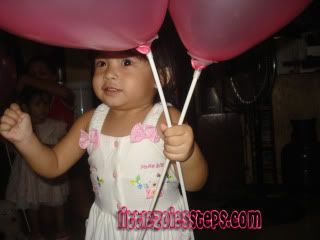 now, i'm getting a hang of it! yay!
its getting late, so tita yca decided to blow her candles even though cousin ish has not arrived yet…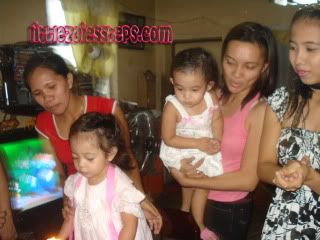 happy birthday, yca!
after all the singing and a little playing… its time to eat!!!
a little while cousin ish came!  here she is…
– me, cousin ish & tita yca –
hay… i really had fun that day, even though its just a small party for just 3 three kids 🙂
that was fun, tita yca! thanks!
by the way, i've got 2 more photos for you to look…
that's me doing a pose!
and more playing with the balloons
keep reading… a lot more posts to come!